Park Tool Company is proud to announce the winners of the 2022 Community Tool Grants. For the seventh consecutive year, the company is rewarding bicycle-related nonprofit programs with quality tools and repair stands. This year, due to an overwhelming response, the Community Tools Grant was reduced from ten to twelve winners. These tool grants will help these organizations expand and improve programs that are already making a huge difference in their communities.
"We've had an incredible response this year, with over 450 candidates around the world, so we felt it was right to expand the program this year," said Eric Hawkins, President/Owner and Chief Mechanic of Park Tool. "As interest in cycling continues to grow and as the world continues to feel the effects of the uncertainty of the past two years, we are proud to help these twelve organizations by providing them with the tools and equipment they need to meet the needs of the communities they serve. »
Each of the twelve grant recipients will receive over $1,800 in Park Tool products, including:
• 1 Park Tool PK-5 Professional Mechanic's Tool Kit
• 2 Park Tool PCS-10.3 portable repair stands
• 5 Park Tool SA-1 workshop aprons
• 1 Park Tool BBB-4 Big Blue Bike Repair Book
The 2022 Park Tool Community Tool Grant winners are:
BCSicletos Colectivo de Ciclismo Urbano AC — La Paz, Baja California Sur, Mexico
BCSicletos, located in La Paz, Mexico, is an organization that has found in the bicycle a tool for social transformation, giving many people the possibility of emancipating themselves from the system by riding on two wheels. They are convinced that freedom is lived by cycling through our neighborhoods, connecting from the streets and using the momentum to transform them for the benefit of all.
East Bay Bike —Oakland, California
Bike East Bay promotes healthy, sustainable communities with fun bike events, classes, and community organizing. Since 2011, their award-winning education program has offered more than 1,200 free workshops to more than 23,000 adult and youth participants in the two counties east of San Francisco.
Boys and Girls Club of Greater Milwaukee – Milwaukee, Wis.
Since 1997, the Boys and Girls Clubs of Greater Milwaukee B!ke Shop (BGC B!ke) program has been helping young people ages 14-21 develop skills in bicycle mechanics through hands-on training, career development, and on a 6-month paid internship. BGC B!ke also serves as the community bike shop for the Sherman Park neighborhood of Milwaukee, where members of the community can visit our store and receive low cost/free bike repairs. Through programs like BGC B!ke, Boys and Girls Clubs of Greater Milwaukee serves youth by providing safe spaces, impactful programs, nutritious meals, and key resources to help them succeed in school, make healthy lifestyle choices and reach their full potential.
Southwest Culture Center Story Riders Program — Albuquerque, New Mexico
Story Riders enables children and youth of color to reconnect with our natural and cultural heritage, while providing hands-on training in safety, maintenance and guided cycling experiences in which participants explore local stories and spaces .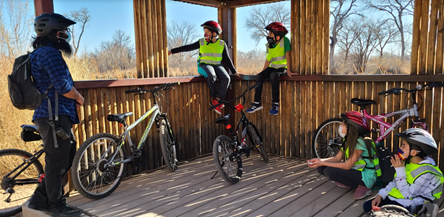 Kootenay Adapted Sports Association — Nakusp, British Columbia, Canada
Kootenay Adaptive is a world leader in adaptive mountain biking education, promotion, trails and events. Based in British Columbia, Canada, KASA provides resources and education across North America to develop the sport of adaptive mountain biking and recreation access for people with disabilities.