PARTNER CONTENT
MetroMap's high-resolution aerial imagery and measurement tools are a game-changer for outdoor event managers.
Sou Australia's largest national cycling race, the Super Series, uses MetroMap aerial imagery to overcome many logistical and timing challenges when staging its nine events. MetroMap enabled Jake Thomas, Super Series Race Director and Event Coordinator for AusCycling in SA, to better manage the multi-month planning processes, communicate more effectively with stakeholders and grow the event through a better time management.
Remote controls
The Super Series has a significant footprint at seven different racing venues, five different local government areas and four events located over 50km from Adelaide's CBD. The routes range from a few kilometers to more than 100 km. MetroMap's extensive capture program allowed Thomas and his team to remotely examine and take ground-level measurements of every road and hospitality location without leaving their office.
Thomas described how MetroMap helps before an event. "MetroMap has been really helpful for the Super Series this year, especially with planning, because it means we can do things like site inspections, road inspections and all the other things that normally go on a trip to the website," he said. . "Being based at Gepps Cross makes it difficult to get to all the locations as we try to run nine events at once."
In particular, MetroMap's remote inspection and measurement capabilities have simplified the planning of a brand new Super Series course in a complex location in Adelaide's CBD. Thomas said MetroMap helped streamline those parts of this complex event.
"One of the races we developed for this year's Super Series was the East End street race," he said. "MetroMap allowed us to map the exact distance of barriers needed for this site, which meant we didn't have to pay for a pile of unused barriers. We were able to do this without taking a walking wheel and measuring the open roads in the middle of town.
"We would have done a lot of measurements on foot without MetroMap."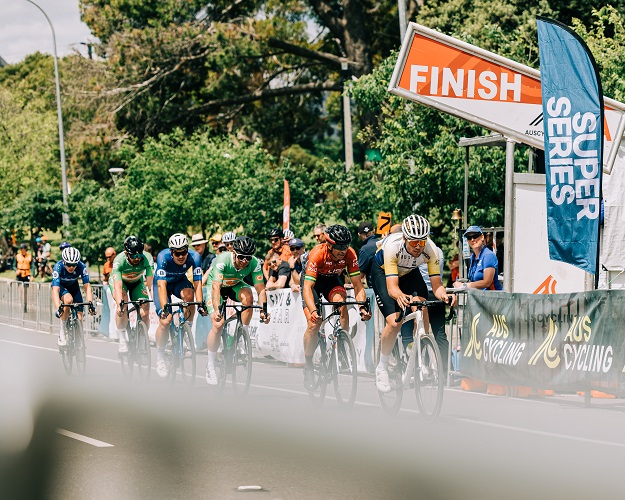 Communication with stakeholders
Aus Cycling SA has made MetroMap imagery a crucial part of communications for participants and other key stakeholders. MetroMap images included in the event manuals showed attendees the course layout and site plan, helping to ensure the event ran smoothly.
Assets built on quality images communicated more than just information about location and infrastructure; they also provided benefits in how the event and AusCycling were perceived.
"Having a better image than anyone has ever seen legitimizes what you do," Thomas said. "Showing up with a super detailed map to meetings with council, residents or trade groups, tells them we know what we're doing and gave us an air of authority."
Better time management means better events
MetroMap makes better use of the limited time of event managers, optimizing the scheduling process to enable better scheduling with allocated resources. All Reclaimed Time supports event improvements and accelerates event growth.
"Because the Super Series is an annual race, we have the opportunity to take what we have done year on year and constantly improve it. We want more people to come out. We want the experience of the event is getting better," Thomas said.
"It's hard to find more time before the day of the event, but getting back 15 minutes here, two hours there and a half day there, frees up time to take on those extra projects that might have been in standby for a while." a few years. You're not necessarily saving time, you're just using your time to do things better that you couldn't do otherwise.
Daily tools for event managers
The Super Series has crowned its winners for 2021, but MetroMap has become an integral part of the workflow for Thomas and the AusCycling SA office.
"We use MetroMap at least 10 times a week," Thomas said. "It's become my first stop when I have a question about what something looks like or where I'm going to put something at an event. It's become second nature for me to be curious about something and go to MetroMap and look it up.
Find out how MetroMap can help your business on www.metromap.com.au.
Stay up to date by getting stories like this delivered to your inbox.
Sign up to receive our free weekly Spatial Source newsletter.